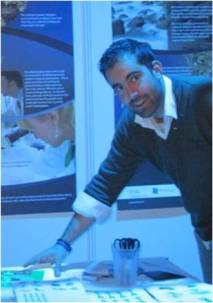 The idea for today's blog came from the wonderfully dangerous (for a post-graduate student) world of social media.
One of these days, on one of my procrastinating activities, I was checking my twitter, where I tend to follow people that post about science education or science outreach. It is becoming a fast and enjoyable way of keeping up to date with novelties in both areas. One of the people that I follow
(@TheScienceGuy
) was tweeting from the reception being given by president Obama to the White House Science Fair winners (really interesting projects this year that you can check
here
). President Obama once again made an appeal for society to value science and the young people that engage with it. This was interesting by itself, but what really caught my eye on the tweets and retweets that were being written about the reception and President Obama's words, was a question made by
@wordsasthoughts
:
"@TheScienceGuy & @neiltyson: Science is totally awesome, but any thoughts on keeping it & the humanities nicely balanced in edu.? #WHChat"
This tweet offers a valuable different perspective regarding the tendency of promoting science, and science education, to youngsters. The weight that science promotion to youngsters is now gaining has raised concerns even within the science domain. One of these arguments (made by
Mathieu Bouville
) is that students should follow and study the area they relate more with. Therefore, the type of science outreach that openly aims to bring students to follow science gets it wrong (even the word
coercion
is used).
I must say that I disagree with this argument. Science outreach is not about
coercing
students to follow science instead of humanities. As a science outreach developer (
Cynthia Townley
) puts it:
"Sharing one's love for science and trying to cancel out a negative bias are very different from preaching the science gospel " 
This quote also partially replies to the tweet I above quoted. I don't have any doubts of the core importance that humanities have, and always will have, in our society. Therefore, humanities will maintain their important role in education, and students that are interested and keen on following it will continue to do so. Science outreach and promotion to youngsters is not going to dispute this. What science outreach is about is going against myths and negative bias that society (and consequently students) has of science and what means to work in the science field. And I'm a firm believer that this goal is important, independently if the student will or will not follow science.