The Pine Forest Art Centre at Glencullen, in the Dublin Mountains, has been providing creative and educational art and craft courses to children and young people for over 40 years. Founded by Mrs Mary Carroll in 1973 the Art Centre is set in the picturesque Dublin Mountains surrounded by woods and streams.  Mary herself was an art teacher in Taney National School in Dundrum  before she decided to open  Pine Forest.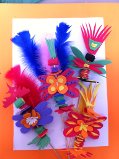 As well as providing Easter, Halloween and Summer Camps/Courses, the Centre welcomes school groups for Art & Craft/Environmental days during the school year and other interested groups throughout the year. Other activities include School Tours, Summer Trips, Teacher's & Student's Workshops, Halloween & Christmas Workshops for schools and groups, Term-time classes, Birthday Parties, a Mid-term Art Day, a Christmas Art & Craft day, and a Parent & Child Art Morning.
What makes Pine Forest so unique is its wonderful naturel environment. Its location is simply stunning, up in the mountains, with its clean air and naturel beauty. Katie Long is the centre manager, she herself is a qualified Montessori teacher; "The children can get mucky, dirty, paint stained – it doesn't matter. There are things like pottery that are quite difficult to do in primary school that can be easily done in Pine Forest where there is lots of space.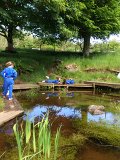 We encourage the children to use lots of stuff from the environment – pieces of wood, leaves, feathers, stones. Also the children are outside a lot, some classes are held outside, and they can run around very safely in the playground.  There is also a pond that is teeming with life – tadpoles and newts.  The pond is always supervised and very shallow with a little wooden walkway around it. There is always something new to discover at Pine Forest."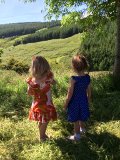 The Pine Forest Art Centre also publishes books on children art and craft activities which can be purchased at the Centre. For further information on Pine Forest and their various courses and camps please contact Katie on (01) 2941220 or email: info@pineforestcentre.com