It is great to see Irish Rugby star Mike Ross using his credentials to encourage students to get involved in STEM alongside National Broadcaster Keelin Shanley who is also calling on students to enter the 51st BT Young Scientist & Technology Exhibition.

Two of the most popular faces in sport and broadcasting were flying high in Croke Park this week to officially launch the 2015 BT Young Scientist & Technology Exhibition, which will take place in January 2015 at the RDS, Dublin.
Mike holds a BSc in Plant and Microbial Biotechnology from UCC, and has a real passion for science, something he says that he has been able to apply in many ways in his profession as an international rugby player.  Keelin Shanley has a BSc in Biochemistry from Trinity College and over the course of her successful career has won numerous journalistic awards including science journalist of the year.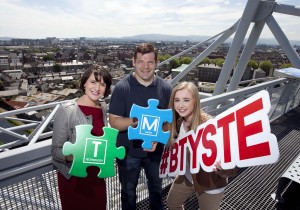 Speaking at the launch before his imminent departure to Argentina for the Ireland tour, Mike said, "I've always understood the value of furthering your education and science is something I have a real passion for. A science degree teaches you to critically evaluate any situation and to fully explore the potential opportunities and challenges presented by it, something I use in everyday life and while appraising all my options on the pitch. Science through sport has taught me more about the physical capabilities of our bodies as well as their limits and how to harness and maximise my own athletic potential. I would encourage all students to enter this year's BT Young Scientist & Technology Exhibition and to fully explore the benefits and opportunities a degree and a career in science can afford them."
Keelin, who currently presents RTÉ's Morning Edition added, "Ireland is renowned for the quality of its STEM education and is one of the reasons why some of the world's top technology companies have invested here. Technology has been paramount to the economic recovery of this country and will continue to play a vital role as we return to prosperity. The BT Young Scientist & Technology Exhibition fosters a culture of curiosity and provides a platform where Ireland's young people can explore the potential of a career in STEM. I would encourage teachers across Ireland to get their students involved."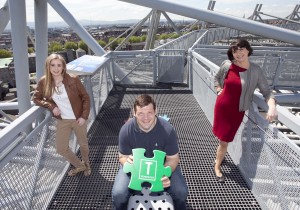 BT Ireland calculates that almost 70,000 students have entered over 33,000 projects in the BT Young Scientist & Technology Exhibition over the past 50 years.  The exhibition's alumni include distinguished scientists, academics, researchers and successful high-tech entrepreneurs including Patrick and John Collison from Limerick and John Monahan, the first ever winner of the exhibition.
The 2015 BT Young Scientist & Technology Exhibition will take place in the RDS, Dublin from January 7th-10th and the closing date for entries is October 1st 2014.  There are over 120 awards including the overall BT Young Scientist & Technologist of the Year which was won by Paul Clarke of St. Paul's College, Raheny in January this year. In addition, BT offers over 30 participating students the opportunity to take part in the BT Young Scientist Business Bootcamp, an intensive commercialisation skills programme that helps students transform their ideas into a real business opportunity.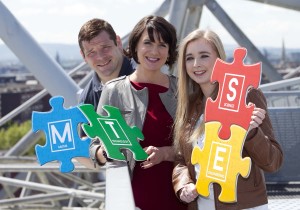 The BT Young Scientist & Technology Exhibition is organised by BT Ireland, one of the country's leading communications and networked IT service providers, and is supported by a number of valued partners including the Department of Education & Skills, Analog Devices, Intel, and RTE.  For more information on the exhibition and for details on how to enter, log onto www.btyoungscientist.com or follow the exhibition on Twitter @btyste #BTYSTE