"We are all creative. Creativity is the hallmark human capacity that has allowed us to survive thus far. Our brains are wired to be creative, and the only thing stopping you from expressing the creativity that is your birthright is your belief that there are creative people and uncreative people and that you fall in that second category."
Dr. Shelley Carson, Your Creative Brain
This past Sunday, at the IFTA's Brendan Gleeson, when accepting an award for Best Actor for his role in Calvary (which will be released in Irish cinemas this Friday 11th of  April), he dedicated the award to Brother Pat Grogan, his former teacher at the Christian Brother primary school in Marino, Dublin.
Brother Grogan was 'brave enough to allow creativity to appear normal' and 'was an incredible mentor for that time, to a whole bunch of us'.
On Sunday April 6th, 2014, he had a chat with Miriam O'Callaghan and he elaborated a little more on this experience – it's only 15 minutes long and worth tuning in to on your lunch break.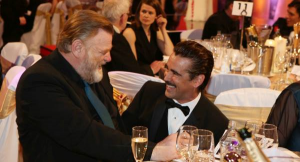 A few weeks ago, Dame Helen Mirren, when accepting a fellowship at the annual BAFTA awards also paid homage to a former teacher of hers, Mrs. Alice Welding:
"My journey to this place, right here, right now, began with a great teacher, Alice Welding. She revealed to me the power of literature. She recognised my need to live in that world of imagination, that world of poetry. She alone was the one who encouraged me to become an actor."
You can watch her speech (4 mins) right here.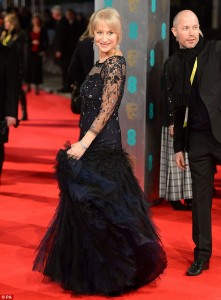 And while we are all talk about actors and teachers this morning, we cannot miss the opportunity to share an image of the ultra-creative Michael Fassbender, seen here hugging his former national school teacher, from Fossa, Co. Kerry at a taping of The Late Late Show. We have set our DVR's for Friday night.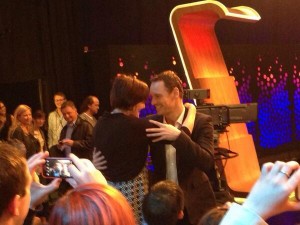 Do you have a favourite teacher? We would love to hear stories about teachers who have inspired you to follow your dreams. Please leave us a comment in the box below or over on our Facebook page or even on Twitter.
And why are we asking this of you?
Because, Education Matters.
The Education Matters blog will be managed  for the time being by two students from the NUIG MA in Journalism program as part of the Masters work placement program.

Caroline Duggan, mum of four and small business owner is passionate about education and enterprise, and is looking forward to a long and fruitful career in this field. She can be found blogging over here at Cast a wide eye and is also on Twitter .

Mona Wise, mum of four, has a fondness for writing about all things food and family related. She has just finished a five year stint as a mature student and has lots of stories to tell. She can be found blogging at Wise Words and is also on Twitter.