The Portuguese Tourist Board is delighted to announce that applications to the Portuguese Tourism Schools are now open, until July 15.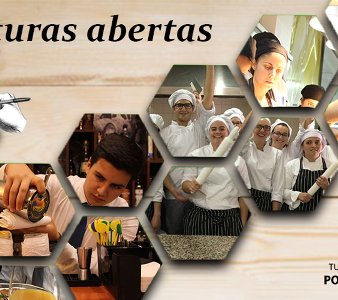 Through its network of 12 schools, the Portuguese Tourist Board trains more than 3,000 students per year, thus contributing to the competitiveness and quality of the service provided by the country's tourism sector.
Irish candidates can apply online now, free of charge, here.
The Tourism School Network of Portugal consists of 12 schools, from north to south of the country in the areas of Porto, Douro, Viana do Castelo, Coimbra, Oeste, Estoril, Lisbon, Portalegre, Setúbal, Vila Real de Santo António, Portimão, and Faro. These schools invest in the training and honing of professional skills in the tourism sector.
The Tourism Schools of Portugal train more than 3,000 students per year, preparing them for their first job. In addition, more than 5,000 professionals in the sector are qualified each year.
The aim of these schools is to improve the quality and reputation of Portugal's tourist industry. Cuisine, Pastry, Catering and Beverages, Nature and Adventure Tourism, Cultural and Heritage Tourism, Hotel and Tourism Management, are just some of the courses available in the 12 schools across the country. These courses are focused on building on people's talent, the development of soft skills of tourism professionals, and increasing innovation within Portugal's tourism industry.
Distance Learning
In light of the COVID-19 pandemic, all Portuguese Tourism Schools have introduced significant changes in their organization and training methodology. The schools have reinforced their digital platforms, creating distance learning solutions that will be the foundation for changes introduced in the next school year. In 2020/2021 virtual school projects will be developed, as well as the creation of online support services, including educational support, study support, personal and creative development, among other services, all of which will reduce the necessity of physical presence in the schools.
e-learning and b-learning
All technological specialization courses will have an online teaching platform where it is expected that 15–20% of the theoretical workload will be carried out. Training programs will also be initiated on an e-learning and b-learning basis, using a specific platform. An example of this is an unprecedented Initiation to Wine Tasting Course scheduled to start in July.
Training Plan
All changes implemented have been accompanied by a training plan for school teams and trainers which guarantees the development of new digital skills and new methods and strategies for distance learning.
The internationalisation of training is a very important aspect of the Schools of the Portuguese Tourist Board. International candidates are now welcome to apply for courses, made possible through international cooperation with other schools and trainers in the development of online projects and complementary online training.
For more information, please visit escolas.turismodeportugal.pt
For International Applications (in English), please contact internationalstudens@escolas.turismodeportugal.pt