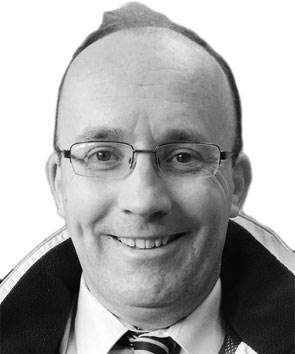 Trevor Collins
Assistant Principal, Bandon Grammar School; Business, Economics and Computer teacher
Virtual Desktop Infrastructure
A virtual world where the benefits are real
Here we see an example of how a country school has changed its school ICT system from the traditional model to an ICT School of Excellence – and it hasn't stopped improving.
Introduction
Recent ICT initiatives in Irish education have led to changes in teaching and learning, including what is taught, how it is taught, and the infrastructure for teaching and learning. This article focuses on the use of Virtual Desktop Infrastructure (VDI). It describes a journey of a school changing from the traditional ICT model to one of the newest (and hopefully best) systems available in using cloud-based VDI. It also discusses an action-based pilot programme being undertaken in the local area.
The work undertaken has been solidly founded in the best practice of education literature. Those behind the change in infrastructure have won awards at local and national level and have been positively reviewed by business and academic management.
This journey has just started. Bringing about a change in the conservative world of education may prove difficult – but difficult roads often lead to the most wonderful destinations. Virtual Desktop Infrastructure is here to stay, and is becoming standard in business. This article explains how VDI can improve ICT infrastructure in education. The system is virtual, but as we will see, many of the benefits are real.
The concept arose from the benefits that staff in Bandon Grammar School (BGS) saw when using VDI after they upgraded their ICT system around 2012. In conjunction with VMware, a local software company, the school adopted a system that would normally be used in the banking, insurance, and finance sectors.
Since the system is quite new, there is a lack of academic research and literature on cloud-based VDI in both secondary and third-level education. This article may encourage further study in the area.
The pathway to change
Some schools do not have computer rooms and do not provide ICT training to students. Others may have a dedicated computer room with an average of twenty-five devices, each typically comprising a monitor, keyboard, mouse, and terminal. We can assume that devices would have applications for writing documents (e.g., Word), creating presentations (e.g., PowerPoint), and accessing the internet (e.g., Chrome).
Over the years, various State initiatives have attempted to develop ICT in schools. Schools IT 2000 was a key programme with over £40 million in investment. It financed equipment and improved connectivity and teacher training (Mulkeen, 2003). This investment in education continues.
Some schools may have a portable trolley with laptops or handheld devices to do something similar to normal PCs. Costs to maintain and upgrade these devices would be incurred by the school.
Each device is a standalone unit and must be updated individually. Maintaining these systems can be costly and time-consuming, and depends on a member of staff having a certain level of ICT skills. Often this is a teacher with a full timetable and huge and varied demands being made on them.
While various bodies such as the Professional Development Service for Teachers (PDST) (see References) and Financial Support Services Unit (FSSU, 2017) provide guidelines for schools to develop their ICT infrastructure, many schools simply do not have the personnel or time to research, develop, and implement a suitable system. As difficult as it is for a secondary school in Ireland, primary schools face an even tougher task.
Generation 1: The start of a journey to VDI
Bandon Grammar School undertook a major extension in 2011/12, which created an opportunity to redevelop the ICT infrastructure. Before this, the school had one dedicated computer room with twenty-eight PCs. There was also a woodwork room with some PCs. Management's willingness to empower staff with decision-making rights was a key factor. As Ghamrawi (2011) wrote, in an article on improving ICT schools, it fostered 'collegial dialogue, collective problem-solving … and a strong commitment to continual instructional development and design'.

Our main investment was the purchase of servers that would process all accounts, personas, desktops, data and applications.
Staff researched ICT systems and joined up with VMware, a firm with specialist software used mainly in financial and technical sectors. Since the school essentially had a 'green-field' site on which to build and test a new ICT infrastructure, VMware used the school as a test case to see VDI operating in an education environment.
While the Irish Digital Learning Framework (DES, 2017) acknowledges that 'schools are at different stages of the school improvement journey with regards to embedding of the use of digital technologies into teaching and learning'(p.2), we felt from our experience that VDI has many benefits over the traditional ICT model in schools.
Following 'Universal Design for Learning' principles, our design and implementation of this system facilitated 'autonomy and control in order to develop a sense of ownership'. (Valstad, 2010). The team recognised that access to information did not imply access to learning. For students to have the opportunity to reach their potential, a student-friendly, efficient, and durable system was required.
VDI in operation
Our main investment was the purchase of servers that would process all accounts, personas, desktops, data, and applications. A special 'master computer' (golden image) is made using software, and it is then copied ('cloned') for each user.
A key point is that instead of using the components of the computer you are sitting at (CPU, ROM, RAM, etc.), all of the processing is done by a more powerful, central server that manages the accounts, apps, software, virus protection, and everything else. The only function of the PC, laptop, tablet, or smartphone is to send the keyboard taps and mouse strokes to the central server. Cheap, second-hand devices can therefore be used instead of expensive, state-of-the-art devices.