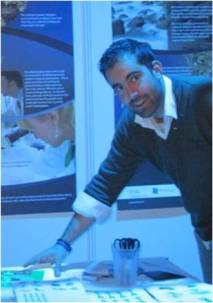 It is with great pleasure that I write my first blog in Education Matters. As a reader I've found the entries of my colleague bloggers of great interest, and they are now part of my routine readings. The blog I am starting will focus on the area I am studying. I am a PhD candidate in the School of Education in NUI Galway focusing on science education and outreach, more specifically, science education and outreach in the primary level. I hope to share with you interesting readings and information I've been discovering whilst researching the field. As a Portuguese in Ireland in some of the blogs I plan to share, as well, some comparisons about our two different science education systems.
But why is it interesting to discuss science education and more particularly, primary level science education and science outreach? Well, Science (I use the word as a general term which involves Science, Technology, Engineering and Maths, a.k.a. STEM) in the present day is seen by politicians in the EU and in Ireland as a way of achieving economic growth (by the way, when mentioning Science I use it as So, there is considerable investment in research and in attracting science related companies. In Ireland there are a large number of these: Google, Abbott, Boston Scientific, Paypal, just to cite a few. For them and for research institutions, science graduates are a requisite. The recent words from Minister for Education and Skills, Ruairí Quinn, regarding Dublin City of Science 2012, don't leave any space for doubt: "inspire and motivate our young people to take up important subjects such as science and maths (…) in advancing the Government's commitment long-term in research and development and placing Ireland firmly on the map for science"
Nevertheless the more recent numbers regarding the uptake of Science are not looking that good, as the recent EU report has told us. But this is old news; several countries in several different periods of time have called for an uptake of Science by students, showing concern for the low numbers, going as far back as the 1950's. What is interesting is that these situations tend to repeat themselves and things seem to roughly continue the same.
The cure has been long prescribed in the science education literature: change the way Science is taught in the primary and post-primary level to a student oriented curricula. Changes towards this remedy have happened: the primary level science curriculum in Ireland is an excellent example of this. The problem is that the numbers show that in OECD countries, Ireland included, schools still mostly follow a teacher traditional top down instructional model. This also shouldn't surprise us. The amount of research showing that curricular change by itself doesn't lead to teachers' change of methodology is overwhelming.
There is an easy and a hard explanation for the difficulty on changing science education in the primary and post-primary levels. The easy one is that the blame resides in the teachers and you just have to "fix" them. After they are "fixed", they will teach correctly and voilà, the problem is solved. This explanation has been the one behind a number of programs developed throughout the world. Being a science teacher myself, I find it a bit insulting.
The second explanation is one that is starting to surface in a considerable number of published studies. It is an explanation which recognizes that for science education to change at a systemic level, the school culture itself needs to change. Furthermore, it recognizes that there are obstacles at different levels which inhibit change. Curricular reform is an excellent step but is just one of several that need to be undertaken to promote change. In his excellent blog, Mr. Clive Byrne shows us other relevant obstacles: a culture of exams that reward memorization for instance.
Although school systems have been labeled in the literature as change resistant ones, I believe this change is happening already, despite the multi-leveled obstacles.  Reading another excellent blog, this time by Mr. Brian Mooney, one can see the direction this change might take. I don't envision a future without schooling. Nonetheless, the pace at which the new technologies and social media, now at our fingertips, are changing the way we interact with the world, will, and are already, changing education, and therefore science education. So, with more or less resistance, school is now changing. With all our small contributions, hopefully, this change will be be for the good of education, and henceforth science education, of the younger generations.
I don't want to exhaust you, the reader, in my first blog, so I'll leave the specific challenges science education faces in the primary level, and the role that initiatives from universities and other organizations (science outreach) can have as acatalyst for change, for my subsequent blogs.
To finish I would just like to share with you a video from education innovator Sir Ken Robison about his very challenging thoughts regarding our school.
Note 1: When mentioning Science, I use it as a general term, which involves Science, Technology, Engineering and Math's, aka STEM.
Note 2: If you would like any of the references regarding what I mention in the text please don't hesitate to contact me