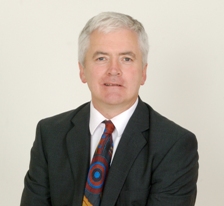 The Government announced last month that all second-level schools are to get high-speed broadband by 2014. They failed to offer any similar commitment to primary schools where, according to a recent survey by IPPN, 23% of schools' broadband connections are unreliable.

To effect significant change, first we need a vision of what it is we want to achieve. If the Government is serious about delivering what it calls a '21st century learning experience to all learners', then it must start at primary level where the task to rebuild our economy and society begins. I believe that, like Donagh O Malley's declaration of free second-level education 45 years ago, the time has come for a similar call to action.

The Department of Education and Skills should set targets for the delivery of an ICT-based curriculum where the teaching of each subject is mainly delivered by means of technology. The Minister for Education and Skills should set a target whereby one subject in the curriculum – for example, Maths – be taught through technology in every classroom in every school from September 2013. This would focus all minds on a single objective and create momentum toward the delivery of a digitised curriculum.

One of the great benefits of technology in education is that it allows every child to engage at their own rate of progress. Technology-based learning has been shown to benefit children with exceptional abilities as well as those 'struggling' to keep up with their peers.

The Department's strategy to improve standards of literacy and numeracy would benefit enormously from an ICT-based approach, not least because there is an abundance of high-quality software specifically addressing these skills.

The National Centre for Technology in Education, in conjunction with the National Council for Curriculum and Assessment, should review the vast amount of education software on the market and, through nationally-negotiated licence agreements, provide all schools with the appropriate digital content to support the curriculum.

As part of the multi-annual budget for ICT in primary schools, the Government should provide earmarked funding for new hardware.

It must lead the switch to e-books rather than relying on traditional hardbacks which are heavy and expensive due to constant updated editions.

As well as that, the role of industry in helping to devise and deliver professional development opportunities for teachers should be explored further. Teachers who reach certain standards in ICT-related courses should be formally recognised.

We heard this message during a business leaders' workshop held at the IPPN annual conference which was attended by the senior executives from some of the world's largest multinationals including Dell, Covidien and Ely Lilly, Merck Sharp & Dohme, EMC, as well as industry representative bodies and education leaders.
The key recommendations for enhancing primary education with appropriate technology that emerged from the workshop will shortly be presented to Minister Quinn.

The challenge for teachers is to 'raise the bar' in children's achievement levels and 'close the gap' between the highest and lowest achievers, regardless of their social or economic background.
US multinationals like Google, Cisco and EMC have indicated that there are likely to be more jobs in the growing ICT sector than there are people to fill them so it is critical that we take steps now to build ICT capacity in primary school classrooms.

Employers say that the new waves in global ICT – particularly cloud computing and data analytics – as well the ability to understand and analyse complex information will require core competencies based on computer proficiency, numeracy and reasoning.

These are among the skills that can be fostered at primary school level.

ICT can be the enabling tool in the economic recovery project – and it is vital that we deploy it in our primary schools now.
View all blogs by Seán Cottrell