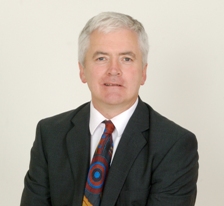 Last month, RTE's Six One news carried the happy and heart-warming story of Coolderry hurlers returning with the Leinster club hurling trophy to the cradle of their hurling civilization – their local national school – where they were welcomed tumultuously by jersey-clad local children.
Now, in the wake of two budgets, it seems more likely that such televised events in the future will be consigned to Reeling in the Years. Many such schools, operating at the very heart of local communities across the country, are in danger of closure.
The government announced a budget measure that will force many small schools of four teachers or less across the country to close, robbing local communities of a vital part of their identity.
From next year, phased adjustments announced in the Budget will be made to the staffing schedules for one, two, three and four-teacher primary schools with fewer than 86 pupils.
In many cases, small schools are the last remaining element of organised public service as Garda stations, post offices and grocery shops disappear one by one. It must also be remembered that the vast majority of the adult population were educated in small schools with multi-grade classes.
Regrettably, the Department of Education and Skills considers rural schools too numerous to communicate with and financially unviable.  But recent research conducted by Jim Spinks, research fellow at Melbourne University on behalf of the Irish Primary Principals' Network (IPPN), shows that schools with four teachers or fewer are as financially viable as medium-sized schools with between eight and to 15 teachers.
Dr Colm McCarthy, UCD, included the closure of small schools as one of his measures to save money. However, even if we look at these schools in pure economic terms, there is no clear saving to be made.
The majority of these small schools are in very good repair due to strong community involvement and local pride. Furthermore, in a typical situation, if two small schools were to amalgamate, extra classrooms would need to be built to accommodate pupils in the schools to which they move.
School transport would also have to be provided. Despite the increased fees levied on parents for school transport over the past two years, the state still bears considerable cost as it will involve introducing bus routes where none existed previously. So where's the saving?
More importantly, there is no educational argument to back up the government's case to close small schools. Research conducted by Dr Catherine Mulryan-Kyne of St Patrick's College, Drumcondra, found that despite the complexities of the revised curriculum and the challenges of multi-grade teaching, children's learning in small schools was at least on a par with outcomes in larger schools.
IPPN research also shows that educational outcomes in small schools compare well with those in larger schools and that federations or clusters of schools with shared governance structures – rather than closures of small schools – have worked in other countries.
IPPN has examined alternative models of school provision in remote areas of Catalonia in Spain; Fermanagh in Northern Ireland; Northern Sweden; Queensland, Australia; and the Massif Central in France.
The common factor in all these areas was the retention of teaching and learning functions and the amalgamation of the administration and management function of schools whereby there is one board of management, one budget, one staff, one pool of secretarial and caretaking support, one administrative non-teaching principal, one roll number and one point of contact for the Department of Education and other agencies. These changes evolved over a 2-4 year period and children continued to attend the same school and retained their own school building in the community, an approach which is sound both educationally and resource-wise.
According to research undertaken by IPPN, 1,221 primary schools will be affected by the new staffing rules that increase the number of pupils needed for the retention of teachers. The move will severely worsen conditions of teaching and learning in small schools, where it is not just the number of children but their age range that makes teaching multi-grade classes extremely challenging.
Small schools are also severely affected by other changes announced in Budget 2012. The Delivering Equality of Opportunity in Schools (DEIS) scheme was designed to alleviate the effects of socio-economic deprivation. With the abolition of DEIS for rural schools and DEIS II in urban areas, it appears that the already disadvantaged are taking a disproportionate hit in the effort to save money.
With all of these cuts hitting schools simultaneously, parents, principals and teachers are beginning to wonder what future lies ahead for their local school.
It is very disappointing that efforts made to date to 'rationalise' small schools seem to be based on linear rather than lateral thinking. The aspects of small schools that are arguably inefficient are not the teaching and learning but rather the administration, management and general governance.  There is a clear need to pilot a number of models involving clusters and federations of small schools.
IPPN research shows that two-thirds of principals in small schools would undertake an administrative principal's role involving two or three small schools if such a role became available, demonstrating that there is an appetite for change. The blunt instrument of pupil numbers as the sole measure in determining the continued existence of a school is clearly limited. Island schools and other contexts such as detention centres and hospitals will require models to suit their exceptional requirements.
In my view, good policy and savings are more likely to emerge from the evidence provided by good practice than a knee-jerk reaction to the clamour for austerity measures.