Book Title: Become the Primary Teacher Everyone Wants to Have: A Guide to Career Success
Author: Seán Delaney, Marino Institute of Education
Publisher: Routledge (Taylor and Francis)
Pages: 275
ISBN: 978-1-138-67563-6
Price: €22-€32
Available from: Hodges Figgis, Dubray Books (Kilkenny), The Book Centre (Kilkenny), Marino Institute of Education.
Online from: www.bookdepository.com,www.amazon.co.uk
and www.routledge.com/Become-the-Primary-Teacher-Everyone-Wants-to-Have-A-guide-to-career-success/Delaney/p/book/9781138675636.
[dropcap]F[/dropcap]ew Irish educators have written books on teaching. This one is organised around work teachers do each day like assess, differentiate, prepare, give homework, choose teaching methods, relate with colleagues, and maintain a work life balance. Each activity has its own chapter.
The book has dedicated sections on teaching reading, teaching mathematics, and teaching children in early years settings.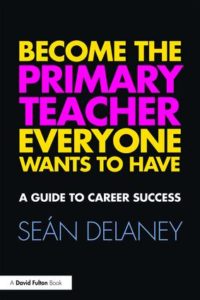 This book is easy to read, yet informed by extensive research. Plenty here to inspire every teacher.
Read a review of the book from
InTouch: http://seandelaney.com/wp-content/uploads/2016/11/InTouch-Review-of-Become-the-Primary-Teacher.pdf.
Watch the video of Seán Delaney's speech at the launch of his book: https://www.youtube.com/watch?v=tEWOEU68OqA.
Read Irish Independent article about the book:
www.independent.ie/irish-news/education/how-to-be-the-teacher-everyone-wants-35254506.html.
Listen to podcast based on the book: https://insideeducation.podbean.com/e/programme-271-10-lessons-ive-learned-about-teaching-7-12-16/
Seán Delaney